CSG [CBM] Fight not over yet by Australia Prime 7, March 14, 2013
It's a test of true endurance. … Anti-CSG compainers have won their war in the Northern Rivers.  Metgasco making the decision to leave the area yesterday, for now at least. … This is just a message.  To the next company after Metgasco. Anyone who comes near the Northern Rivers. This is our resolve. We don't give up easy. … Clean Water! Yes. … Metgasco has suspended all CSG operations in the Clarence-Moreton Basin indefinitely.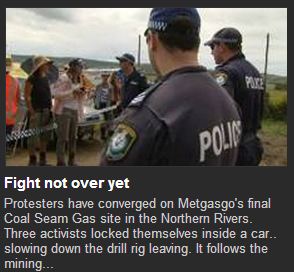 Metgasco closes Northern Rivers CSG [CBM] wells by newsninemsn, March 13, 2013
A coal seam gas (CSG) company is suspending its Northern Rivers operations, blaming uncertainty created by the NSW government's regulation of CSG activity. Metgasco has exploration licences for regions around Lismore, Grafton, Casino and Murwillumbah in the Clarence-Moreton basin. It has recently faced heated opposition from anti-CSG activists and other community groups. Its announcement to the Australian Securities Exchange on Wednesday comes after the federal government announced it would impose tougher environmental checks on CSG and large coal mines. But Metgasco managing director Peter Henderson blamed policies announced previously by the NSW government for uncertainty and delays. On February 19, the state government announced a two-kilometre "buffer zone" around residential areas to prevent new CSG activity, as well as exclusion zones around horse breeders and wine producers. Premier Barry O'Farrell has also announced a review of all CSG activity by the chief scientist, with a report due in July. Mr Henderson said of the operations' shelving: "This was not an easy decision to make, but a necessary one, given the regulatory uncertainty." He said Metgasco would scale back its organisation and maintain only a small presence in the Northern Rivers. … Anti-CSG group Lock the Gate Northern Rivers spokesman Ian Gaillard said community pressure was the real reason behind the company's announcement. "People have decided they don't want this industry," he said. … Greens MP Jeremy Buckingham said Metgasco's suspension was recognition that gas companies can't force their way into communities. "This is a big win for the impressive community campaign and shows that coal seam gas does not have a social licence to operate in NSW," he said. "Fracking precious water resources and risking community health for a few years of gas rush is short-sighted and greedy." [Emphasis added]
Australia's Metgasco suspends CSG exploration in New South Wales by Christine Forster, March 12, 2013, Platts
Australian coalseam gas company Metgasco has suspended exploration and development at its Clarence Moreton project in the eastern state of New South Wales due to the introduction of government restrictions on the industry's operations. "This is a carefully considered decision by the Metgasco board in light of the uncertain operating environment created by the NSW government's announcement on February 19 that it intends to change the regulations for coalseam gas operations in the state," the company said in a statement Wednesday. Last month, the state government unexpectedly announced plans to introduce 2 km (1.2 mile) "no-go" zones for CSG development around residential areas, horse studs and vineyards. "The NSW government's new regulations, which are still not finalized, have created an environment of uncertainty for energy companies in the state," Metgasco said. "With the NSW Chief Scientist report not due until mid-year, Metgasco like all other energy companies looking to undertake CSG developments in NSW, is potentially faced with another six months or more of regulatory uncertainty and delays." Metgasco plans to scale back its organization until the new regulations in NSW are firmly established and tested. "The CSG industry in NSW endured an 18-month shutdown while the state government reviewed the industry and put in place regulations it lauded as the toughest in Australia, if not the world," said Metgasco Managing Director Peter Henderson. "Only five months after introducing these new regulations and confirming its support for the industry, the NSW government has yet again announced new regulations, this time without any consultation with the energy industry." The Australian Petroleum Production and Exploration Association said it had been warning for months that "ad hoc and politically motivated" regulation of the energy sector would have serious consequences. Metgasco's decision showed that there was only so much uncertainty that multi-million-dollar projects could tolerate, APPEA added. "Unfortunately this is what happens when energy policy is mismanaged," added APPEA Chief Operating Officer Eastern Region Rick Wilkinson. "It's a sad day for an Australian company, its employees and their families. The decision to suspend exploration is a direct result of obstructionist NSW government policies that have left industry in limbo for the last two years." Wilkinson added that the "extraordinary" decision announced Tuesday by the Australian government, requiring federal approval for CSG projects that impact water resources, had also created uncertainty for the industry. "We support stable, sensible and robust regulation around our activities based on sound scientific principles, but these politically expedient rule changes contradict COAG [Council of Australian Governments] calls to reduce red tape and provide investors with certainty and confidence," he said. Metgasco has spent nearly A$100 million ($103 million) acquiring licenses and exploring in northern NSW over nearly a decade. The company was about to begin a development program, aimed at confirming well productivity and starting gas sales to the local community. Metgasco claims it is the largest holder of uncontracted gas in eastern Australia, with estimated reserves in place of 2,500 petajoules. The NSW gas market currently consumes 130 PJ/year of gas. [Emphasis added]
Driller's Share Price Crashes as Australia Direction Actions Continue by fred, March 3, 2013, frack-off.org.uk
Farmers protest CSG in Sydney CBD by newsninemsm, May 01, 2012 Anger over coal seam gas reached boiling point today as thousands of farmers and residents marched through the CBD. … We grow beef, and we have done over a hundred years. … And it's the first time ever, that The Country Women's Association have joined in a political rally.
[Refer also to:
New South Wales sets up coal seam gas exclusion zones