Secret Memo Casts Doubt on Feds' Claims for Science Library Closures, Goal stated is 'culling' research, not preserving and sharing through digitization by Andrew Nikiforuk, December 30, 2013, TheTyee.ca
A federal document marked "secret" obtained by Postmedia News indicating the closure or destruction of more than half a dozen world famous science libraries has little if anything to do with digitizing books as claimed by the Harper government. In fact, the document, a compendium of cuts to the Department of Fisheries and Oceans, mentions only the "culling of materials" as the "main activities" involved as the science libraries are reduced from nine to two. Specifically, it details "culling materials in the closed libraries or shipping them to the two locations and culling materials in the two locations to make room for collections from closed libraries." …
Scientists who use the libraries say priceless information — essential for the legal and political security of Canada's waterways as well as the defence of the longest coastline in the world — was thrown into dustbins, burned or scavenged by private consultants. … A DFO scientist anonymously told The Tyee, "The cuts were carried out in great haste apparently in order to meet some unknown agenda. No records have been provided with regard to what material has been dumped or the value of this public property. No formal attempt was made to transfer material to libraries of existing academic institutions." 
'Heartbreaking'
Scientists have variously condemned the dismantling of the one of the world's finest aquatic libraries as a natural tragedy, a series of criminal acts and information destruction unworthy of a democracy. [Emphasis added]
Harper government cutting more than $100 million related to protection of water by Mike De Souza, December 27, 2013, canada.com
More than $100 million in cuts are underway at the federal department in charge of protecting Canada's water and oceans, despite recommendations from top bureaucrats that it needs to increase spending for both environmental and economic reasons.

According to internal federal briefing notes obtained by Postmedia News, Prime Minister Stephen Harper's government is eliminating about 500 jobs at the Department of Fisheries and Oceans related to Coast Guard services, patrols to stop illegal fishing activities as well as scientific research to promote conservation, protect endangered species, and prevent industrial water pollution. [Industry and China can't profit from bitumen and condensate tankers if anyone but taxpayers are responsible for spills and accidents]
The cuts, part of the federal government's efforts to eliminate its deficit, cover 26 different areas of the department which has a workforce of about 10,000 employees. The downsizing also includes the shutdown of federal libraries and millions of dollars in reductions to climate change adaptation programs. In total, the department estimates it will cut about $80 million per year from its budget by 2014-15, and over $100 million per year in the following fiscal year. But the cuts coincide with internal advice from top bureaucrats that the government should instead be increasing its spending in the department to protect both economic and environmental interests, particularly for Coast Guard services which are facing cuts equivalent to about $20 million by 2014-15 and 300 full-time jobs. "Rising marine traffic, technological changes, climate change impacts (such as fluctuating water levels), and extended shipping seasons are among the factors expected to continue to place increased demands on Coast Guard services," said briefing notes prepared for the department's deputy minister Matthew King in December 2012. "For example, there are demands for increasing icebreaking services on the Gulf of St. Lawrence and on the Great Lakes, for extending Marine Communications and Traffic Services, aids to navigation and ice breaking services in the Quebec North and Arctic for additional environmental response as well as search and rescue capacities in selected areas."
The department is in the process of eliminating the equivalent of about 96 full-time positions and slashing spending by about $6 million in its Marine Communications and Traffic Centres which provide "distress and safety call monitoring" and other services to ensure safe and efficient movement of marine vessels.
The department's restructuring also follows a shift in its mandate from the Harper government's 2012 budget, which introduced what it described as "responsible resource development" by eliminating a series of environmental laws and replacing them with new ones that significantly reduced federal oversight on industrial development. Those changes revamped a longstanding water pollution prevention law, the Fisheries Act, that required the protection of all fish habitat, replacing it with a new law that only requires the protection of water when humans are nearby. [What if humans need to move into to areas where companies dump their drilling and frac waste water and flowback? Companies are producing so much waste from hydraulic fracturing, they do not know what to do with it. Responsible waste disposable renders unconventional oil and gas uneconomical]
In the midst of the overhaul, Fisheries and Oceans Minister Gail Shea told Parliament in a recent report that her department was on the right track. "It is my sincere belief that our work will enable us to fulfill our vision [unfettered tarsands, coal, oil and gas pollution and frac waste dumping], which is to advance sustainable aquatic ecosystems and support safe and secure Canadian waters while fostering economic prosperity across maritime sectors and fisheries," she said in her department's performance report for 2012-13. The department is also significantly reducing surveillance patrols of fishing activities off the coast of Newfoundland as part of the government's activities within the Northwest Atlantic Fisheries Organization, cutting the equivalent of about $4.2 million and 23 full-time positions.

The department told Postmedia News that these cuts to NAFO were based on several positive developments in recent years, including a 90 per cent drop in the number of serious cases of non-compliance by foreign fishing vessels since 2005, from 29 cases to 10 cases in 2011.
Other cuts to scientific research at the department include:
– $1 million in cuts and seven jobs eliminated through the closure of conservation and protection offices.
– $1.5 million in cuts and about 14 job losses resulting from the transfer of the Experimental Lakes Area, a system of lakes near Kenora in western Ontario where scientists have studied the impacts of industrial pollution on water for decades.
– $1.7 million in cuts and 27 job losses following the elimination of an in-house research program examining biological impacts of contaminants, pesticides and the oil and gas industry, and turning instead toward a "small advisory group" to "outsource" research needs.
"Since the announcement, media attention has focused on the capacity of the department and its scientists to provide adequate and timely advice to the government on the potential effects of accidental spills of contaminants, especially oil, gas and diluted bitumen, into the environment," said the briefing material prepared for the deputy minister, that was marked "secret."

Scientists from other departments, such as Environment Canada and Natural Resources Canada were also doing some new research in recent months on the behaviour of diluted bitumen, the product from Canada's oilsands industry, in water to help oil companies prepare for environmental disasters. [Emphasis added]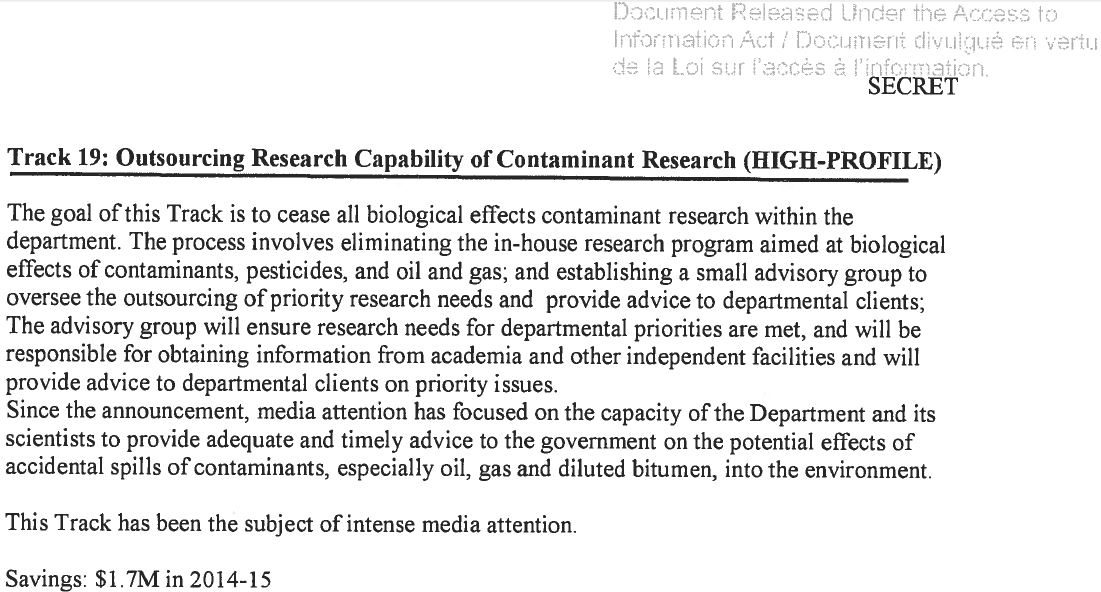 What's Driving Chaotic Dismantling of Canada's Science Libraries? Scientists reject Harper gov't claims vital material is being saved digitally by Andrew Nikiforuk, December 23, 2013, TheTyee.ca
Dismantling of Fishery Library 'Like a Book Burning,' Say Scientists, Harper government shuts down 'world class' collection on freshwater science and protection by Andrew Nikiforuk, December 9, 2013, TheTyee.ca
[Refer also to:
The Burning of Books by The History Place, 2001
A hundred years before the advent of Hitler, the German-Jewish poet, Heinrich Heine, had declared: "Wherever books are burned, human beings are destined to be burned too."
On the night of May 10, 1933, an event unseen in Europe since the Middle Ages occurred as German students from universities once regarded as among the finest in the world, gathered in Berlin to burn books with "unGerman" ideas. …
Germany was now led by a self-educated, high school drop-out named Adolf Hitler, who was by nature strongly anti-intellectual. … Before Hitler, German university towns had been counted among the world's great centers of scientific innovation and literary scholarship. Under Hitler, Germany's intellectual vitality quickly began to diminish. Truth, rational thinking and objective knowledge, the foundation stones of Western Civilization, were denounced….
The youth-oriented Nazi movement had always attracted a sizable following among right-leaning university students. [Emphasis added]