Shut It All Down: Report Calls for Nationwide Ban on Fracking, Hydraulic fracturing gas drilling turning America's water into cancer-causing, radioactive waste by Jon Queally, October 4, 2013, Common Dreams
The explosion of hydraulic fracturing in the last several years, according to a new report, is creating a previously 'unimaginable' situation in which hundreds of billions of gallons of the nation's fresh water supply are being annually transformed into unusable—sometimes radioactive—cancer-causing wastewater. … The report explores various ways in which gas fracking negatively impacts both human health and the environment, including the contamination of drinking water, overuse of scarce water sources, the effect of air pollution on public health, its connection to global warming, and the overall cost imposed on communities where fracking operations are located. "The bottom line is this: The numbers on fracking add up to an environmental nightmare," said John Rumpler, the report's lead author and senior attorney for Environment America. "For our environment and for public health, we need to put a stop to fracking." In fact, the report concludes that in state's where the practice is now occurring, immediate moratoriums should be enacted and in states where the practice has yet to be approved, bans should be legislated to prevent this kind of drilling from ever occurring. Though the report acknowledges its too early to know the full the extent of the damage caused by the controversial drilling practice, it found that even a look at the "limited data" available—taken mostly from industry reports and government figures between 2005 and 2012—paints "an increasingly clear picture of the damage that fracking has done to our environment and health." [Emphasis added]
Fracking produces annual toxic waste water enough to flood Washington DC, Growing concerns over radiation risks as report finds widespread environmental damage on an unimaginable scale in the US by Suzanne Goldenberg, US environment correspondent, October 4, 2013, The Guardian
Fracking in America generated 280 bn US gallons of toxic waste water last year – enough to flood all of Washington DC beneath a 22ft deep toxic lagoon, a new report out on Thursday found. The report from campaign group Environment America said America's transformation into an energy superpower was exacting growing costs on the environment. "Our analysis shows that damage from fracking is widespread and occurs on a scale unimagined just a few years ago," the report, Fracking by the Numbers, said.
The full extent of the damage posed by fracking to air and water quality had yet to emerge, the report said. But it concluded: "Even the limited data that are currently available, however, paint an increasingly clear picture of the damage that fracking has done to our environment and health." …
The authors said they relied on data from industry and state environmental regulators to compile their report. … 
A study published this week by researchers at Duke University found new evidence of radiation risks from drilling waste water. The researchers said sediment samples collected downstream from a treatment plant in western Pennsylvania showed radium concentrations 200 times above normal. The Environment America study said waste water pits have been known to fail, such as in New Mexico where there were more than 420 instances of contamination, and that treatment plants were not entirely effective. "Fracking waste-water discharged at treatment plants can cause a different problem for drinking water: when bromide in the wastewater mixes with chlorine (often used at drinking water treatment plants), it produces trihalomethanes, chemicals that cause cancer and increase the risk of reproductive or developmental health problems," the report said.
About 260bn US gallons of the 280bn US gallons of toxic waste water were from Texas, a state that has undergone three years of severe drought and where there is fierce competition for water between the oil industry and farmers and ranchers.
Environment America said that water was now taken out of the supply and that storing, transporting and even recycling the toxic waste carried environmental risks. ""They say a lot of it is recycled. It is still 280bn gallons of toxic waste generated that is running through our communities," said John Rumpler, author of the report.
Spokespersons for Energy in Depth, the industry lobby group, disputed the findings as "alarmist:" and "meaningless". "Number is meaningless unless they're alleging something is happening with it, ie ending up in tap water," Steve Everley, the lead spokesman for the lobby group said on Twitter. Other consequences of fracking highlighted in the report included: 450,000 tons of air pollution a year and 100m metric tons of global warming pollution since 2005. [Emphasis added]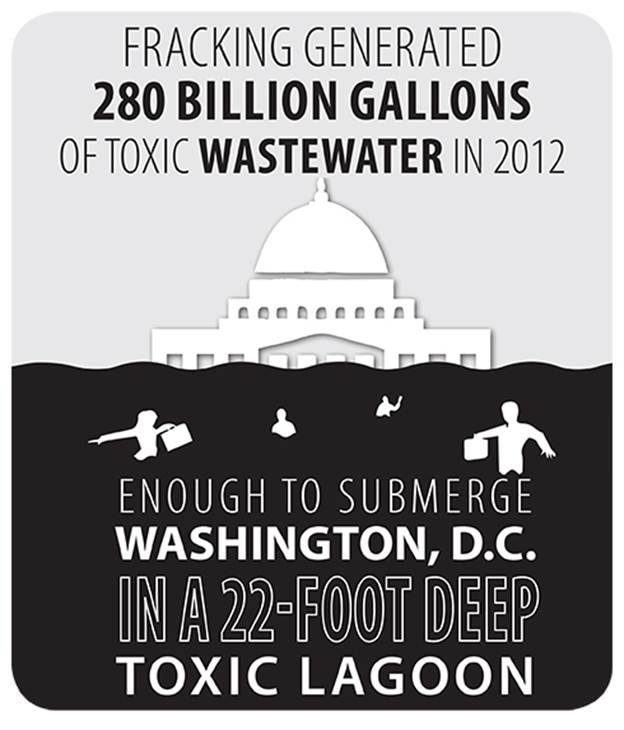 Fracking by the Numbers, New Report First to Quantify Damage Done by Gas Drilling Press Release by Environment America, October 3, 2013
The Environment America Research & Policy Center report, "Fracking by the Numbers," is the first to measure the damaging footprint of fracking to date. …
"At health clinics, we're seeing nearby residents experiencing nausea, headaches and other symptoms linked to fracking pollution," said David Brown, a toxicologist who has reviewed health data from Pennsylvania. "With billions of gallons of toxic waste coming each year, we're just seeing the 'tip of the iceberg' in terms of health risks." The "Fracking by the Numbers" report measured key indicators of fracking threats across the country, including:
• 280 billion gallons of toxic wastewater generated in 2012,
• 450,000 tons of air pollution produced in one year,
• 250 billion gallons of fresh water used since 2005,
• 360,000 acres of land degraded since 2005,
• 100 million metric tons of global warming pollution since 2005.
Fracking also inflicts other damage not quantified in the report — ranging from contamination of residential wells to ruined roads to earthquakes at disposal sites.
Reviewing the totality of this fracking damage, the report's authors conclude: Given the scale and severity of fracking's myriad impacts, constructing a regulatory regime sufficient to protect the environment and public health from dirty drilling — much less enforcing such safeguards at more than 80,000 wells, plus processing and waste disposal sites across the country — seems implausible. In states where fracking is already underway, an immediate moratorium is in order. In all other states, banning fracking is the prudent and necessary course to protect the environment and public health. [Emphasis added]
[Refer also to:
Dangerous levels of radioactivity found at fracking waste site in Pennsylvania, Hundreds of disposal sites for frac wastewater could be similarly affected ]