Canada Says Its Drilling Law Is Fair In Gas Co.'s NAFTA Suit by Jack Newsham, February 11, 2016, Law360
A U.S. natural gas driller that argued that Quebec's 2011 ban on oil and gas drilling beneath the St. Lawrence River amounted to an expropriation of its valuable permits failed to prove the government's actions violated NAFTA, Canada told an International Centre for Settlement of Investment Disputes tribunal in documents released Tuesday.
Although Lone Pine Resources Inc. alleged that Quebec's drilling ban was so arbitrary and unfair that it violated investor protections, Canada asserted in its July counter-memorial that the law was reached through a fair,… [subscription required]
NAFTA – Chapter 11 – Investment, Cases Filed Against the Government of Canada: Lone Pine Resources Inc. v. Government of Canada by Government of Canada [How sweet is it that Canadians get their federal government back, no longer have to call it Harper's?] Accessed February 11, 2016
Claimant
Lone Pine Resources Inc. ("LPRI") is a company incorporated in the State of Delaware in the United States. LPRI owns Lone Pine Resources Canada Ltd. ("LPRC"), which is incorporated in Alberta. LPRC is an oil and gas resources development and production company operating in Alberta, British Columbia, Quebec and the Northwest Territories.
Articles
1105 (Minimum Standard of Treatment)
1110 (Expropriation)
Damages claimed
$118.9 million USD.
Arbitration rules
UNCITRAL
Summary
Procedural history
The claimant submitted a Notice of Intent to Submit a Claim to Arbitration on November 8, 2012, followed by a Notice of Arbitration on September 6, 2013. An arbitration tribunal was constituted in September 2014 and Canada filed a Response to the Notice of Arbitration on February 27, 2015. The claimant submitted a memorial and evidence in support of its claim on April 10, 2015.
Factual overview and nature of the claim
The claimant alleges that LPRC has contractual interests relating to five contiguous exploration licences for petroleum, natural gas and underground reservoirs ("exploration licences") located near Trois-Rivières. These interests stem from a farmout agreement signed with the holder of these exploration licences, a Canadian company named Junex Inc. Four of the exploration licences are located on land and one is located in the St. Lawrence River.
The exploration licence located in the St. Lawrence River was revoked following the coming into force, on June 13, 2011, of a Quebec law titled An Act to limit oil and gas activities ("Act"). The Act revokes exploration licences located in the St. Lawrence River and limits the area of those that cross the water's edge to their land portion.
The Act was passed in response to the findings of a strategic environmental study on hydrocarbon development in the maritime estuary basin and the northwestern Gulf of St. Lawrence, which concludes that this environment is not conducive to hydrocarbon development activities. This study was preceded by numerous other studies that, since 2003, have been analyzing the impact of hydrocarbon exploration and exploitation activities on the biophysical and human environment of the St. Lawrence River.
In addition to studies on hydrocarbon development in the St. Lawrence River,
the Government of Quebec devotes considerable resources to documenting and assessing the environmental and socio-economic impacts of the shale gas industry. Since February 2011, reports from Quebec's Bureau d'audiences publiques sur l'environnement ("BAPE") and studies conducted as part of strategic environmental studies
have been establishing the existence of risks to the biophysical and human environment tied to shale gas development activities involving hydraulic fracturing.
The claimant alleges that Quebec's energy policy in effect at the time of the facts promoted investments in the hydrocarbon sector. It also alleges that Quebec government workers assured it that it could conduct exploration work in the territory covered by the Junex licences in which it has interests.
The claimant alleges that the revocation of the river licence violates Canada's obligations under articles 1105 (Minimum Standard of Treatment) and 1110 (Expropriation). More specifically, it alleges that the passing of the Act is an arbitrary, unfair and inequitable measure based on political and populist grounds rather than actual environmental grounds. It also alleges that this measure violates the legitimate expectations that it had when it decided to invest in Quebec. Finally, the claimant alleges that the revocation of the river licence expropriated its investment without any compensation. It alleges that this violation of Canada's international obligations caused it damages that it has assessed at $118.9 million USD.
Conversely, the Government of Canada alleges that the Act is not a measure that affects the claimant because it is not the holder of the exploration licence owned by Junex. Moreover, according to the Government of Canada, the Act is a legitimate measure of public interest that applies indiscriminately to all holders of exploration licences that are located fully or partially in the St. Lawrence River. The measure was enacted by a fundamental democratic institution of Quebec and was preceded by numerous studies that establish that the Act seeks to achieve an important public policy objective, namely, the protection of the St. Lawrence River. Therefore, the Act cannot be considered an arbitrary, unfair or inequitable measure.
The Government of Canada also points out that the minimum standard of treatment guaranteed in Article 1105 of NAFTA does not protect investors' legitimate expectations. Even if this were the case, no representative of the Government of Quebec communicated to the claimant any guarantee, promise or specific assurance that could create legitimate expectations relating to the development of hydrocarbon resources that may be found beneath the St. Lawrence River.
Finally, the Government of Canada disputes that the claimant had an investment that was capable of being expropriated. Even if this were the case, the disputed measure did not substantially deprive it of its investment because the Act revoked only one of the five exploration licences that are the subject of the farmout agreement with Junex. Furthermore, passing the Act is a legitimate exercise of the Government of Quebec's police power and, thus, the measure cannot constitute an expropriation. Lastly, the Government of Canada believes that the damages claimed by the claimant are highly exaggerated. [Emphasis added]
Status
Active.
Legal Documents
This case is governed by the arbitral rules of the United Nations Commission on International Trade Law.  Legal documents related to this case can be viewed at the website of the International Centre for Settlement of Investment Disputes.
The Government of Canada is not responsible for the accuracy, reliability or currency of the information supplied by external sources. Users wishing to rely upon this information should consult directly with the source of the information. Content provided by external sources is not subject to official languages, privacy and accessibility requirements.
Back to "Cases Filed Against the Government of Canada"
Back to the main menu "Dispute Settlement – NAFTA Chapter 11"
***
ALÉNA – Chapitre 11 – Investissement, Poursuites contre le Gouvernement du Canada
Lone Pine Resources Inc. c. le Gouvernement du Canada
[Refer also to:
2010: Shale gas a tough sell in environment-proud Quebec
Premier Jean Charest's government has left it to André Caillé, an energy executive once hailed as a hero in the province, to sell the new energy industry with his credibility and charm.
It hasn't exactly gone as planned.
Some 400 years ago, French settlers cleared this land and today their descendants produce much of Canada's fruit, vegetables and dairy, including North America's finest cheese. The flat farmland and rolling green countryside is peppered with picturesque villages that support those farmers, and the acreages and pied-à-terre of city dwellers drawn by peace and quiet.
It's not traditionally a centre of noisy activism. But one evening this week, when Mr. Caillé made his pitch in a packed and steaming conference room on the outskirts of Saint-Hyacinthe, the descendents of those settlers greeted him with hoots and hollers of derision.
When Mr. Caillé asked for calm, young and elderly alike called him a liar and a thief. The French words for shale gas ( gaz de schiste) were quickly transformed into shouts of "We don't want your gaz de shit!"
Two minutes later, Mr. Caillé was gone, ushered out by police worried about his safety. He'd lost the room in much the same way the government may be losing the province.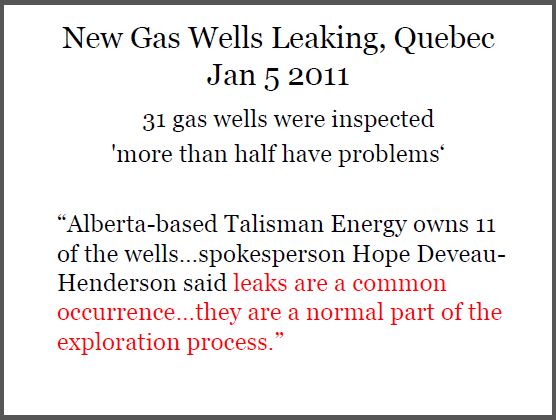 Slide from Ernst presentations
2011: Leaking Energy wells in Quebec keep on leaking
2011: Groundwater contaminated with shale gas found in Quebec
2011: Quebec ban leaves shale gas drillers staggering
2012: Quebec to seek ban on shale gas fracking: Minister
Quebec's new Natural Resources Minister, Martine Ouellet, has made up her mind. Even though she is ordering a new independent inquiry into shale gas exploration and exploitation, she would ban the industry and its controversial hydraulic fracturing outright.
"I don't see the day when these technologies can be used in a safe way," said Ms. Ouellet, as she walked to her first cabinet meeting Thursday in Quebec City.
2012: Quebec government hints at long-term fracking ban
2012: Fracking banned by Quebec government
2012: Quebec bans any fracking pending studies
A committee named by Quebec Environment Minister Pierre Arcand to determine whether shale gas can be extracted while respecting the environment released plans Tuesday for further study and recommended the minister not authorize hydraulic fracturing, or fracking, even for research purposes during an ongoing halt in development.
2012: Quebec should say no to all hydraulic fracturing: report
2012: No fracking, even for research, recommends Quebec committee report
2012: Fracking tour fails to sway Quebec farmers
2012 ExxonMobil, Murphy Oil Beat Canada In NAFTA Case
Two U.S. oil companies have won their complaint against the province of Newfoundland and Labrador, which they challenged under a provision of the North American Free Trade Agreement. Unofficial reports from a U.S. website broke the news Friday, saying a NAFTA panel ruled 2-1 on May 22 in favour of Exxon Mobil Oil and Murphy Oil, which complained about Newfoundland's requirement for offshore research spending. The panel found that the obligations imposed on the oil firms by the province breached Article 1106 of NAFTA prohibiting governments from applying performance requirements as conditions of investment. A Canadian trade official confirmed that Canada had lost the case, which dates back to 2007. "Our government is disappointed by the tribunal's ruling," said Me'shel Gulliver Belanger, a spokesperson for the department of international trade in Ottawa. "The ruling is extremely technical and requires careful review. We are currently assessing the final decision to determine the best way forward." The panel is seeking additional information before assessing a penalty, but the parties originally sought $50 million in compensation.
2012: Ottawa sued over Quebec fracking ban, Smacked by U.S. NAFTA Lawsuit on Fracking
2012: NAFTA challenge launched over Quebec fracking ban
2012: Canadian taxpayers could be on hook for Quebec fracking decision because of NAFTA Chapter 11 that protects corporations even if they risk health, the public interest and environment to take profit
2012: Public vs. corporate rights: NAFTA Chapter 11 invoked in Quebec fracking decision
2012: Timing is right for a fracking ban to protect Ontario from NAFTA lawsuits
2013: Quebec tables bill to block shale gas fracking
2013: Lone Pine Resources, a Canadian frac company in serious financial trouble with $300 million in aggregate debt sues Canada for $250 million to lift Quebec frac ban
2013: Little lawsuit, big implications for future of fracking projects
2013: Why Can Corporate Interests Trump Sovereign Rights? Lone Pine Resources suing Quebec government trying to protect citizen health and environment from harms caused by fracking
2013: Paul Precht, Alberta energy economist speaks contrary to the data; Questerre Energy tries to reverse public opinion on hydraulic fracturing in Quebec, CEO Michael Binnion's work may have only just begun
2013: Crews Still Trying to Contain Sour Gas Leak by Questerre Energy Corporation South of Grand Prairie (near recent groundwater contamination case caused by fracing) & north of Grand Cache, Alberta
2013: The man who did not know Quebec, L'homme qui ne connaissait pas le Québec
2013: EU-Canada trade agreement threatens fracking bans
2013: Petrolia asks Quebec Superior Court to rule on Gaspé drilling ban put in place to protect groundwater, Do decisions of municipal councils outweigh drilling rights?
2013: Protection of water and drilling: the regulation would not apply for Gaspé
2014: Gaspé, Quebec passes water law to stop oil drilling near its wells and homes
2014: Unanimous Decision! Municipal Council of the City of Gaspé appeals the court decision not allowing regulation to protect drinking water from the harm caused by hydraulic fracturing
2014: Action needed on abandoned energy wells leaking methane in Quebec
2014: Municipalities, protect your drinking water supplies from fracing! "Quebec government is pussyfooting"
2014: Governments across Canada failing to protect drinking water; Government betrays Ristigouche and 70 other Quebec municipalities that put bylaws into place to protect drinking water; Gastem attacks Ristigouche with $1.5 Million Lawsuit
2014: Quebec announces extensive studies to assess oil and gas potential, St. Lawrence Lowlands, Anticosti Island subjects of fracking probes
2014: Government finds methane in drinking water wells in Gaspé, water wells are within 2 km of Pétrolia's oil wells, one of them reported in 2012 to be leaking methane
2014: Methane contamination found in Gaspé water wells near Petrolia's methane leaking oil well; Is the Quebec government deflecting the explosive risk to protect the oil and gas industry?
2014: CUPE calls for full drinking water protection in the Gaspésie Peninsula
2014: Quebec oil and drinking water: Gaspé is getting impatient
2014: Government of Quebec partnering with the oil and gas industry to hunt for oil on Anticosti Island puts taxpayers at risk, Marois strikes $115M deal
2014: Gaspé wants Quebec government to intervene; The Quebec Superior Court agrees with Petrolia, says Gaspé municipality can't protect its drinking water supplies from the oil and gas industry
2014: 71 Quebec municipalities defend their drinking water and municipal by laws from possible oil and gas industry lawsuits
2014: Quebec's Premier Declares Province-wide Shale Gas Ban after Environmental Review Board (BAPE) says Fracking Not Worth The Risk, "Too many negative consequences to the environment and society…risks to air and water quality…noise and light pollution"
2014: How low will the con go? Questerre Energy CEO Michael Binnion pitches fracking in Quebec
2014: Officials from Quebec to visit Alberta again for more frac lies: "Alberta is a model to follow when it comes to develop hydrocarbons"
2015: The Most Over-the-Top-Biased Frac Panel Yet? QUÉBEC Ministry of Energy and Natural Resources sold itself to the Devil. Check out this list! Check it twice!
2015: Repeat Press Release — Shale gas: Quebec farmers are missing out on a golden opportunity. Are they really or this is just more industry bullying and "expert" propaganda?
2015: Borrowed Dreams? Promises of regulations led Gaspé to drop lawsuit with Petrolia. Junex dares to dream of oil in Québec; penny stock soared 209% recently, lifted shares of peers Petrolia and Petrolympcs while $200 Billion debt looms over USA oil and gas
2015: Thermogenic methane contaminating Gaspé drinking water near Petrolia's methane leaking oil well; Citizens ask municipal representatives to take back Petrolia's Permits
2016: Turn down millions, save millions more: In North Dakota's Booming Oil Patch, One Tribe Beat Back Fracking, Turtle Mountain Band among first tribes to ban frac'ing ]