Carson slaps moratorium on oil drilling over fracking concerns by Christine Mai-Duc, March 19, 2014, Los Angeles Times
The Carson City Council passed a moratorium on all new oil drilling citywide late Tuesday night after dozens of residents spoke against a massive proposed oil project by Occidental Petroleum. In a 5-0 vote, council members imposed an immediate ban on new drilling for 45 days while the city studies the safety of various well stimulation methods and its authority to regulate them. "There are too many questions, too many unknowns," said Councilman Al Robles, who proposed the moratorium and last month called on the city to reject Occidental's proposal.
"I refuse to gamble with the health and wellbeing of the residents."

The moratorium could be extended with another vote for a maximum of two years. Occidental officials declined to comment on the vote.
The controversy has largely centered on whether Occidental will employ hydraulic fracturing, an extraction technicque that involves injecting a mix of water, chemicals and sands into the ground at high pressures to fracture rock formations and free trapped oil. While company officials initially said they might use hydraulic fracturing, known as fracking, they have since changed course, vowing not to use the technique at the Carson site and insisting it would be ineffective in the sandstone deposits there. But many residents have expressed doubts Occidental will keep its word. "We don't trust them at all," said Diane Thomas, 66, a resident of 43 years whose home is less than two miles from the proposed drilling site. Thomas says she's seen the company vacillate on that point too many times since first meeting with them in 2011.
..
Increasingly, cities are turning to local ordinances to deal with the possible consequences of new oil extraction technology. The Los Angeles City Council voted last month to draft regulations that would ban fracking, acid stimulation, and "gravel-packing," but has yet to vote on them.
The Occidental proposal calls for drilling more than 200 wells, some more than 2 miles deep, in an effort to coax out more oil from the long-exploited Dominguez Oil Field that runs below homes and the nearby Cal State Dominguez Hills. Occidental has promised to disguise and soundproof the oil operation in a warehouse complex, and a draft environmental report examining the project concluded that the proposed project would have no significant effect on air quality, soil or groundwater.
During a meeting that stretched to nearly midnight, dozens of residents on Tuesday urged the council to adopt the moratorium. David Noflin, a longtime resident who owns a local printing shop, said that Occidental and the companies that leased them the land see Carson only as an investment. "But to those of us who live in Carson, this is our home .… This is what we're going to leave to our children and grandchildren."
As the vote neared, the audience urged the council to cast a unanimous vote, chanting "5-0! 5-0! 5-0!" and erupting in cheers after the votes were cast. Tuesday's action also immediately halts all negotiations with Occidental in response to a recent announcement that the company is moving to Texas and spinning off its California operations into a new company. Legally, city planning staff have said, the new entity would be bound by the same responsibilities and liabilities Occidental negotiated, but several city council members expressed concerns about the change. "It's like being left at the altar, and suddenly somebody else appears," Robles said. "They expect us to just assume that this new company is going to honor all the commitments and have the same track record."
…
Carson is no stranger to oil drilling. More than 600 wells have been drilled in the Dominguez field, which has produced more than 270 million barrels of oil since its discovery in 1923. The city also continues to grapple with the cleanup of the Carousel housing tract, where soil tests in 2008 revealed contamination from benzene and petroleum. A local water quality board has ordered Shell Oil to clean up the mess. But city officials frustrated with the pace of the project, last year declared a local emergency in an effort to place more pressure on the company. [Emphasis added]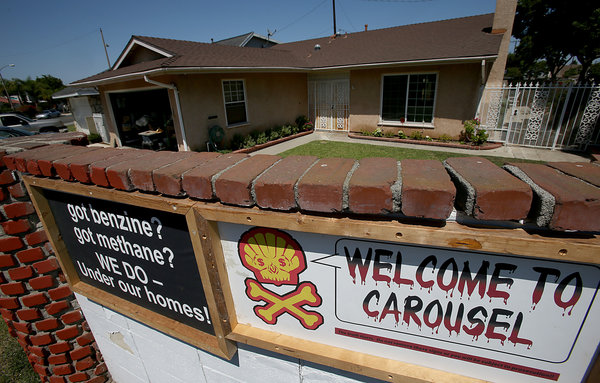 July 23, 2013 Photo by Luis Sinco, Los Angeles Times
[Refer also to:
285 homes in Carson, California contaminated by Shell, experts fear dangerously high levels of methane could cause a massive fireball ]