Jessica Ernst 2017 UK Speaking Tour: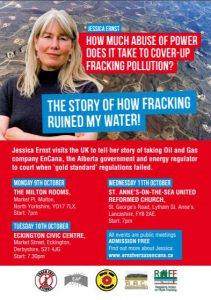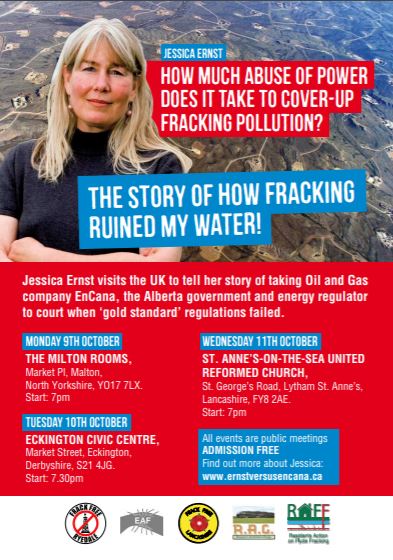 October 9: Malton, North Yorkshire: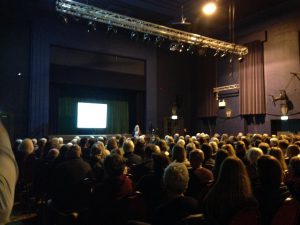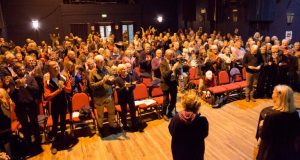 The standing ovation at Malton went on and on and on, overwhelming Ernst.
  Complete slides of Ernst's talk, including Mr. Koop's photos
October 10: Eckington, Derbyshire
October 11: Lytham St Anne's, Lancashire
October 13: Love Leitrim's Frack Ban Celebration at The Rainbow Ballroom of Romance, Glenfarne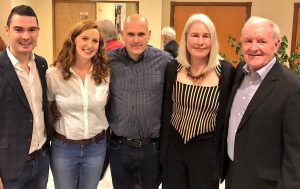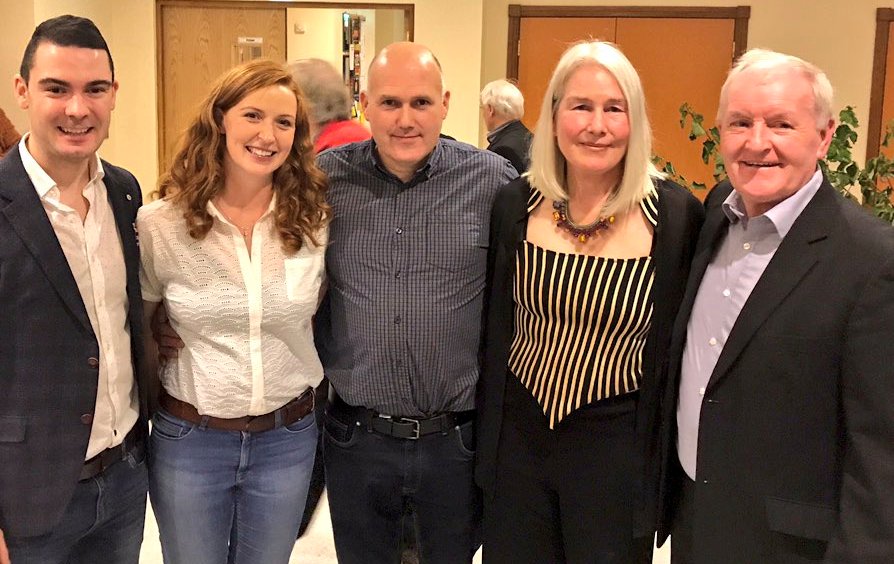 2017 10 14: Left to right: Blaine Gaffney, Kate Ruddock, Tony McLoughlin TD (The Irish politician who introduced the bill that criminalized frac'ing in Republic of Ireland), Eddie Mitchell, and Jessica Ernst attend Ireland's Frac Ban Celebration, Rainbow Ballroom of Romance, Glenfarne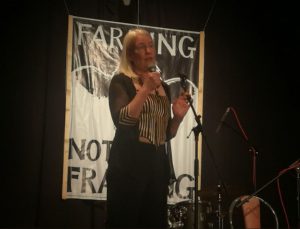 Jessica Ernst speaking at Ireland's Frac Ban Celebration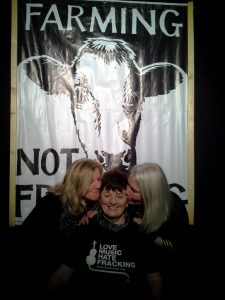 Left to right: Andi, Ger and Jessica at the frac ban celebration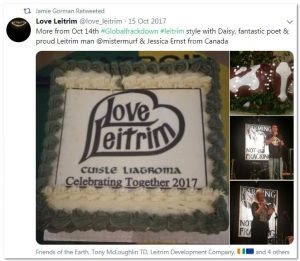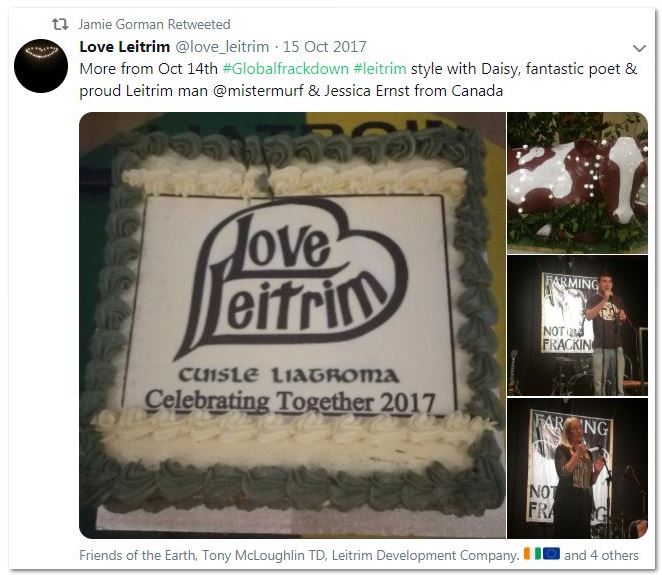 ***
October 17 (postponed a day because of Storm Ophelia): Enniskillen, Northern Ireland
"WHO GIVES A FRACK?" by Roger Bruton of Pocklington, October 13, 2017 Letters, North Yorks Enquirer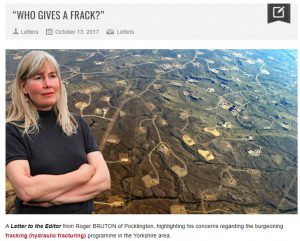 A Letter to the Editor from Roger BRUTON of Pocklington, highlighting his concerns regarding the burgeoning fracking (hydraulic fracturing) programme in the Yorkshire area.
Dear Sir,
On the evening of 9th October I attended a talk at the Milton Rooms, Malton, to listen to a very earnest, erudite and brave Canadian woman, Jessica Ernst [pictured above], who told us of the untold problems caused to the water supply of her and her neighbours due to the gas industry which had fracked their area.
I was astonished at the lies, deceipt, forgery and manipulation of the law indulged in by the industry in search of profit regardless of effects to communities which included deaths and injuries to several people.
The hall was packed by mainly middle-aged and elderly respectable Yorkshire folk horrified at what they heard and made even more determined to fight to protect the countryside from the depredations of the fracking industry.
Public opinion of the majority of this country's population on fracking has sunk to an all time low and now Scotland has banned fracking one must ask why politicians are ignoring the wishes of ordinary people?
Yours faithfully.
Roger Bruton, Pocklington. 13th October, 2017.
The North York Enquirer embedded the documentary Fracking Hell: The Untold Story beneath Mr. Bruton's letter.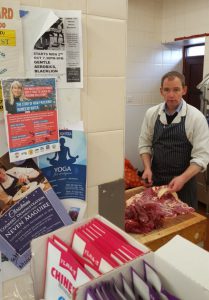 October 12, 2017: Poster of Ernst's UK speaking tour in Flynn's Butcher Shop, Main Street Black Lyon, Co Cavan, Ireland
Photo by Andi Christine Bednarzig posted with permission from the butcher and photographer
[Refer also to:
2017 06 28 Ireland Seanad passes fracking ban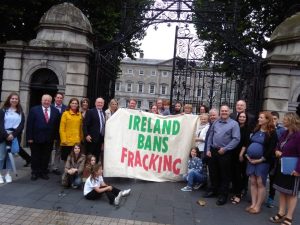 2012 03 06: Jessica Ernst packs hall at Ballroom of Romance
Ernst argues that Ireland should "do a conservative socio-economic assessment of what Ireland stands to lose — in current jobs, industry, your infrastructure, your health. And even the water itself. What is the value of Ireland's rivers and loughs? Often in these things, we look at the supposed short-term gains, but we don't look at what we put at risk." When asked what she would suggest as a course of action for Ireland on fracking, her message is simple: wait. "The best advice I can give to people in Ireland is that the wise man learns from the mistakes of others. Watch the mistakes happen everywhere else," she says. ]