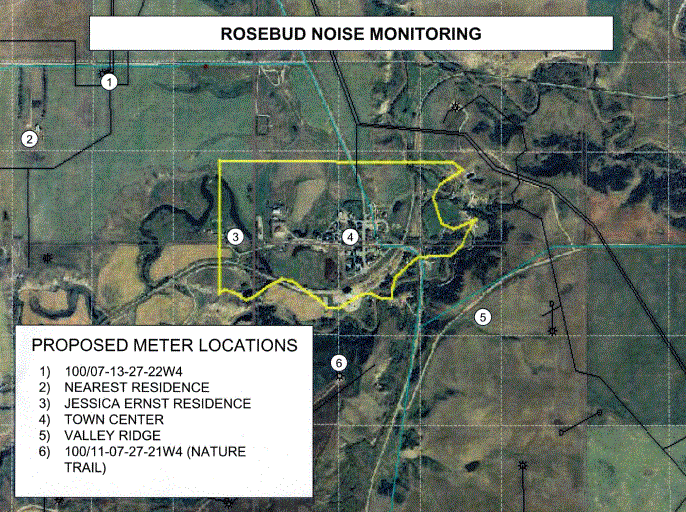 2004 10 21: Encana map handed out by the company at its open house in Rosebud. There are more than a hundred residents living in the map area.
An industry executive gave Ernst a copy, laughing about the angry invasions soon to come to her home.
(The eventual noise monitoring by Encana was fraudulent, but still showed non-compliant noise levels at Ernst's home. Topping up the fraud, the AER altered Encana's data to claim the company's compressors were compliant.)
Thornton runs into trouble over oil and gas tensions in the city, City removes map from its website that listed addresses of anti-fracking homeowners by John Aguilar, November 16, 2015, The Denver Post
Thornton last week removed a map from its website that listed the home addresses of fracking opponents after residents complained that the disclosure amounted to an act of "intimidation."
"It was creepy, it was scary," Rebecca Gregory, a resident of the Hunters Glen neighborhood, said of the map that pinpointed the addresses of 14 homeowners — including hers — who had contacted the city with concerns over proposed oil and gas drilling operations in and around Thornton.
The map, which showed where the city's active wells were and labeled the opponents' houses as "addresses of interest," was included in a packet of materials distributed to City Council members last week during a study session. The map was also posted online.
"I thought the city was trying to map the addresses of the 'troublemakers,' " said Maria Orms, also a Hunters Glen resident and member of the newly formed anti-fracking group North Metro Neighbors for Safe Energy. "At first, people were astounded, and then they felt concerned. It felt like intimidation."
Mayor Heidi Williams said the publication of the addresses was an oversight. City staff was simply compiling contact information so that it could communicate with those concerned about several major drilling operations planned for pockets of unincorporated Adams County that border Thornton, she said.
"I'm glad that the city took the map down," Williams said. …
Councilman Val Vigil, who said it was "inappropriate" for the city to post the addresses of anti-drilling residents on its website, said he favors a fracking moratorium.
"I was elected to protect the citizens of the city — that is my charge," he said. "I'm not here to represent oil companies and the industry."
Mayor Williams said she wants to see how the Colorado Supreme Court rules on the question of local control over drilling before mapping out an approach for Thornton. The court hasn't yet set a date for arguments.
Lower courts in Colorado have overturned drilling bans in Longmont, Lafayette and Fort Collins. But Orms said the fight those communities put up was worth it all the same. "The cities that have passed moratoria are not being fracked," she said.
Big crowd gathers in Thornton to sound off on oil and gas moratorium, City leaders to hold study session on the issue in coming weeks by John Aguilar, November 18, 2015, The Denver Post
Nearly 100 residents, many wearing "No Fracking Way" signs around their necks, filed into City Hall on Tuesday evening to press for a five-year ban on oil and gas drilling in the state's sixth-largest city.
Tara Trujillo, a resident of Hunters Glen in Thornton, said there are plenty of sites in Adams County where drilling can occur that won't impact people directly where they live.
"Don't let this industrial pornography invade every neighborhood," Trujillo said. …
Maria Orms, also a Hunters Glen resident and a member of the newly formed anti-drilling group North Metro Neighbors for Safe Energy, said degraded air quality forced her and her daughter to recently get inhalers.
"If our air quality is so bad now, why are we adding to that with this activity?" she asked. "What is this council going to do to protect its residents?"
But those opposed to drilling weren't the only ones in the room Tuesday. Several dozen people stood when asked for a showing of who is against a moratorium on oil and gas activity in Thornton.
There are several multi-well projects proposed or approved for operation on the edge of the city.
Resident Sarah Kucal said she has asked all the questions a concerned mother would ask about fracking and is convinced that it is safe.
She said putting up more roadblocks to operators in the state will only push energy production overseas and to unstable parts of the world.
"Thornton is not a city that closes its doors to responsible busineses," she said.
Dani Piernot, also a Thornton resident, said passing a moratorium could put taxpayer money at risk.
"The city could find itself in a lawsuit that will cost hundreds of thousands of dollars to defend," Piernot said. "And by passing a moratorium, you'd be sending a hurtful message to your residents who work in the industry."
Councilman Eric Tade told the gathering the city plans to hold a study session on the issue in the coming weeks, which will include discussion of a possible moratorium.
The outcry in Thornton against drilling comes several weeks after hundreds of neighbors gathered at Rocky Top Middle School in October to denounce a plan by Synergy Resources Corp. to drill 20 wells in a field in Wadley Farms, a neighborhood in unincorporated Adams County that is surrounded by Thornton.
It also comes the same week that the Colorado Oil and Gas Conservation Commission is holding hearings in Denver on proposed rules for how much control local governments should have over drilling and fracking activity near homes. …
The issue in Thornton reached a crescendo last week after fracking opponents complained that the inclusion of their addresses on a published map of wells in the city amounted to an act of "intimidation."
Mayor Heidi Williams said the addresses should never have been published and supported the city's decision to remove the map from its website. [Emphasis added]