The Losing Sector In The Junk Bond Rally by seekingalpha, Nov. 26, 2019
Summary
The high yield corporate bond market has produced its best returns since 2016 this year. Despite this strong performance, the Energy sector, which makes up 11% of the HY bond universe, has produced negative returns.
The article discusses the rationing of capital in the Energy space and implications for the Energy sector broadly.
In yesterday's article entitled "A Segment of Junk Bond Market Signals Stress", I noted for Seeking Alpha readers that the spreads on CCC-rated bonds had hit their widest levels in more than 3 years. Spreads on the lowest rated segment of the market broached 10% above Treasuries for the first time since mid-2016 when credit markets were recovering from stress in commodity markets.
It is once again Energy-related credits that are dragging on high yield returns.
As you can see in the table below, not only is the Energy sector the only sector with negative returns, it is the only high yield corporate bond sector that has not posted double digit returns!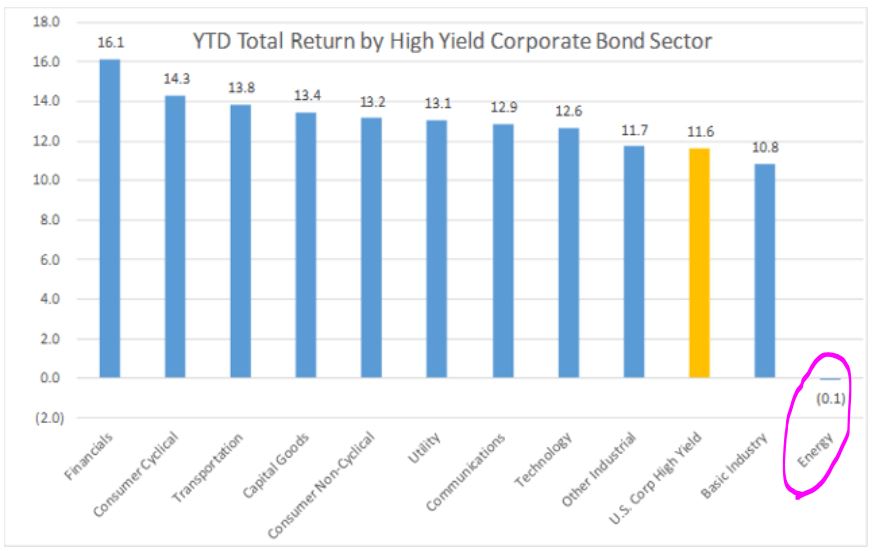 This episode feels different than the late 2014 to mid-2016 swoon in the oil patch. In that period, a large state player (Saudi Arabia) was willing to add supply to the market to try and pressure higher cost, privately owned producers in North America. The gambit worked in driving down prices, but onshore production in the United States has moved higher even after that period caused a wave of corporate defaults. In a way, it was the sovereign players, who rely on oil to support social spending, who blinked. In mid-2019, West Texas Intermediate is trading for double the price it fetched at the nadir in 2016.
Even though prices are off their lows, investors are starting to fret that the capital they have poured into development has produced oil and gas, but not shareholder returns. Couple that financial concern with increased societal pressure to curb fossil fuel consumption and a move towards ESG investment mandates, and the Energy sector (XLE) is out of fashion in both debt and equity markets. …
Refer also to:
2014: Fracking in the Red & Junk Bonds Backing Fracking Facing $11.6 Billion Loss
2015: Art Berman: Shale Plays Have Years, Not Decades & The way of greed: Oil and gas companies face their creditors as Fracking Bubble Bursts (FUNNY!)
2015: As unconventional ponzi scheme implodes, Are Encana's greedy law violations taking the company down?
2016: Trudeau names Brian Ferguson, CEO of Cenovus (company along with Encana that's been reduced to junk bond status) to Economic Advisory Council [Would it be wise to listen to Ferguson's advice?]
2017: "Poor" Cenovus (Encana spawn) buying most of ConocoPhillips Canadian Assets for $17.7 Billion, Suffield Block up for sale. "We will expect our Canadian Forces to hold a party of hotdogs and beans to celebrate getting rid of a major Canadian polluter!!"
2019: Encana fleeing Canada in Scheer desperation? Shares drop 9.2%! Illegal aquifer-frac'er, caprock buster, poisoning bully of families and briber/divider of communities running to USA, changing its spots to Ovintiv Inc. Erectile Dysfunction drug or cross between Ovaltine in vintage container and a vagina?
2019 11: "Impeach a Premier?" Jason Kenney & his UCP's Omnibus Bill fires Election Commissioner investigating Kenney, transfers teachers' pension funds **without their approval** to underperforming AIMCo. Kenney trying to turf RCMP too because they're also invesigating him? How handy for criminals to be politicians.