Braid: Cash burns at Alberta's sloppy health giant by Don Braid, February 12, 2013, Calgary Herald
Many threats can really scare a person these days. Things like environmental disaster, economic collapse, and 26,000 Alberta Health Services employees running around with expense accounts. The auditor general's latest report reveals that shocking fact and many more. The document is revelatory about the enormous size, gargantuan appetite and sloppy practices of Alberta's cash-burning health behemoth. One AHS employee — we don't know who — has a credit card spending limit of $900,000. I really want lunch with that person. In 17 months, AHS paid $100 million in expense claims. Even A-G Merwan Saher, used to big numbers, confessed to being "quite taken aback at how large the sum was."

("Taken aback" is accountant talk for "Holy s—!")

Most of the claims came from 26,000 of the 100,000 AHS employees, an expensing army larger than the population of seven Alberta cities. … In the highest single claim, AHS paid $116,390 for a realtor's commission expensed by an employee. The standard limit on corporate credit cards (which AHS calls "purchasing cards") is $10,000 a month or $120,000 a year. Thirteen people had limits ranging from $180,000 up to that $900,000 whopper. … Here's a short list of items AHS employees and agencies bought with their credit cards:
…
"If AHS thought it was the most cost-effective for Albertans, they needed to make a much better justification in their records." All this, it seems to me, is part of the rampant spread of entitlement in management levels of Alberta's publicly funded bodies. Their interests are now diverging at light speed from the public interest. AHS, being the biggest, is probably fated to be the worst. But the government doesn't tackle AHS. It prefers to discredit the doctors, most of whom have to pay for their own expenses, benefits and pensions. [Emphasis added]
[Refer also to: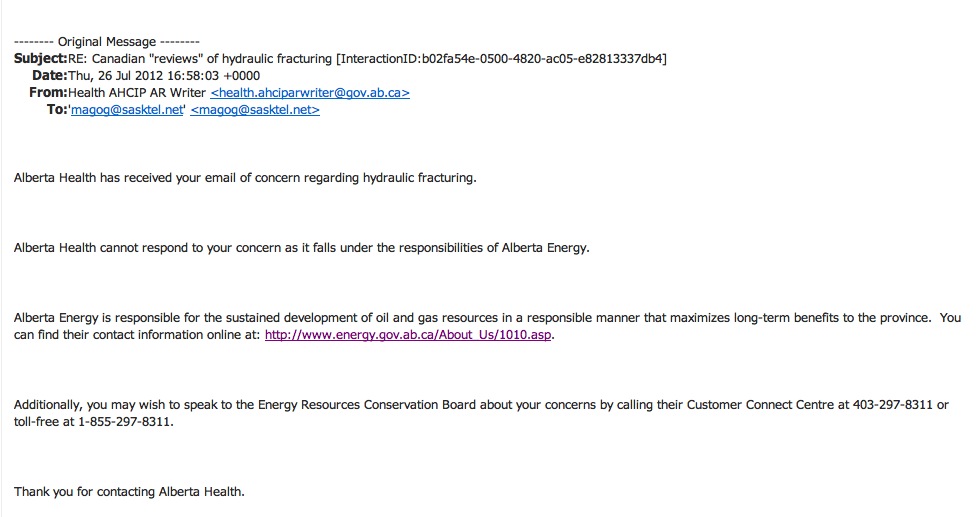 Above Email from Alberta Health in response to:
July 23, 2012
Dear Elected / Appointed Officials, Alberta's Chief Medical Officer of Health, Canada's Chief Public Health Officer and Council of Canadian Academies Panel to Understand the Impacts of Shale Gas Extraction
Is it possible that Mr. Peter Kent intentionally directed the two Canadian "reviews" of hydraulic fracturing to ignore health impacts? The comments by physician Angela LeGresley of New Brunswick at the first link are excellent and well worth 7 minutes of your time. The link to the Colorado Health study she mentions I included below for your convenience. I respectfully request that the two federal "reviews" include health impacts. Otherwise, they'll be meaningless. The panel for the Council of Canadian Academies was just selected recently so there is time to include review of the health impacts (and lack of appropriate "study") completely, honestly, with due diligence, integrity and courage. So what if Mr. Harper fires you for exposing the truth? At least you will sleep well at night.
WATCH: Episode 1- New Brunswick Government Shale Gas Session, Dr. Angela LeGresley 7
Doctors seek hydro-fracking moratorium, New Brunswick College of Family Physicians writes letter to legislature by CBC News
Air emissions near natural gas drilling sites may contribute to health problems by News-Medical.net, March 19, 2012
Human Health Risk Assessment of Air Emissions from Development of Unconventional Natural Gas Resources by Lisa M. McKenzie, Roxana Z. Wittera, Lee S. Newmana, John L. Adgatea, Colorado School of Public Health, University of Colorado, March 19, 2012, erierising
Fracking Moratorium Urged By U.S. Doctors Until Health Studies Conducted by Alex Wayne, January 9, 2012, Bloomberg
Alberta Health CEO Bayliss steps down by Darcy Henton, December 8, 2006, Edmonton Sun
Investigators say an accumulation of gases appears to have caused the explosion that destroyed the Rosebud water tower and sent a Wheatland County employee to hospital by Strathmore Standard, January 27, 2005
Thank you.
Sincerely,
Jessica Ernst